Home
Australian Mathematical Society Web Site
---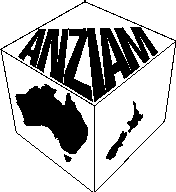 ANZIAM
A division of the AustMS
---
ANZIAM provides:
Conferences and Meetings
Our annual Applied Mathematics Conference is the place to meet and exchange information. The conference includes contributed papers, invited presentations, policy discussions, and excursions. ANZIAM members pay reduced registration fees.

The annual Conference is usually held in early February.

Our regional branches in ACT, NSW, New Zealand, Queensland, South Australia and Victoria organize occasional special meetings, as well as regular meetings each year.
Specialist Interest Groups
ANZIAM supports several Specialist Interest Groups:
The Computational Mathematics Group holds the Computational Techniques and Applications Conference (CTAC) biennially. The Proceedings of the CTAC Conferences are published.
The Engineerings Mathematics Group sponsors occasional one day meetings and a biennial conference, the proceedings of which are published.
Mathsport is concerned with applications of mathematics and computers in sport. It also holds biennial meetings.
The Mathematics in Industry Study Group holds the Mathematics in Industry Study Group Meeting, an annual one week get-together of applied and industrial mathematicians barnstorming on real industrial problems.
A Voice for the Profession
ANZIAM represents the interest of applied mathematicians. As a division of the Australian Mathematical Society, ANZIAM has a seat on the Australian Mathematical Sciences Council. This Council is also represented on FASTS (the Federation of Australian Scientific and Technological Societies) which is the main lobby group for scientists in Australia.
Publications
The ANZIAM Journal is a quarterly journal which published papers in applied and industrial mathematics, related mathematical sciences, and on applications of mathematics. More than 400 university libraries worldwide subscribe to the ANZIAM Journal.

The Gazette is published five times a year by the Australian Mathematical Society and carries news items, general methematical articles and professional advertisements. ANZIAM members receive the Gazette free.
Special Benefits for Students
Awards. ANZIAM sponsors the prestigious T.M. Cherry prize for the best student presentation at the Applied Mathematics Conference.
Networking. Postgraduate students considering a career in applied mathematics will benefit from advice and information available through ANZIAM.
Discounts. Reduced membership fees apply for students.
The goals of ANZIAM are to
Advance the application of mathematics to science, industry and business.
Promote mathematical research relevent to applications of mathematics.
Provide for the exchange of ideas and information between applied mathematicians and users of mathematics in science, engineering and industry.
Encourage the education and training of industrial and applied mathematicians.
Who should join ANZIAM?
Our members are professionals and intending professionals with interests in applied mathematical research, mathematical applications in industry and business, and mathematics education at tertiary level. In the main, they work in universities, government laboratories, and as postgraduate students. About 10% of members work in private enterprise.
To join ANZIAM...
ANZIAM is a division of the Australian Mathematical Society. Membership costs are modest and discounts are available for students and those not in full time employment. Membership subscriptions and Journal costs are generally tax deductible. For members of the NZ Mathematical Society, reciprocity arrangements are possible, or you can join ANZIAM direct through the NZ Branch of ANZIAM.

To receive a membership application form, or further information, fill in our request form, or contact


Secretary ANZIAM
School of Mathematical and Physical Sciences
University of Newcastle
Callaghan NSW 2308

Telephone (02) 4921 5530
Facsimile (02) 4921 6898
email anziam_sec@austms.org.au
---
This information is taken from an ANZIAM leaflet. Any mistakes should be reported to anziamweb@austms.org.au
Last update: 06 December 2001.