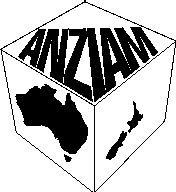 Mini-meeting of the NSW & ACT branches of ANZIAM
Vincentia Golf Club, Jervis Bay

26-27 November, 2004

Dear ANZIAM members and others,



The NSW and ACT branches of ANZIAM are holding a mini-meeting on 26/27th November at Vincentia Golf Club. Vincentia is located in Jervis Bay and about 2-2.5 hours drive from Sydney and Canberra. The Jervis Bay exit is about 10km South of Nowra on the Princes Highway.
The Golf Club is located at 49 Murray St, Vincentia, NSW, Ph: 02-44415111, web: http://www.vincentiagolfclub.com.au.
An overhead and a data projector will be available, but delegates must bring their own laptop. It also has all the other things that clubs provide, namely alcohol, food and pokies.
The meeting will be of a similar style to the last mini-meeting, held at Mittagong during 2003. The meeting will begin early afternoon on Fri. the 26th and finish early afternoon on Sat. the 27th. There will be a three course conference dinner at the Golf Club (in our own private room) on the Saturday night, cost TBA. This will include some bottled wine, with additional drinks able to be purchased at the bar. I'm not sure if there will be a registration fee yet, but if there is it will be a nominal one, paid on registration. The cost of the dinner must be paid, in cash, upon registration.
Talks will be of 20 minutes duration and we encourage student presentations. Like the last meeting there will be a prize of $100, for best student talk. There will also be an invited speaker.
Below is a list of accommodation options in Huskisson/Vincentia:
Jervis Bay Motel, Huskisson, 02-4441-5781
Jervis Bay Dolphin Shores, Vincentia, 02-4441-6895
Bayside Motor Inn, 02-4441-5195
Huskisson Beach Tourist Park (cabins), 1300733027
These three motels are between $90-$120 a night a double while at the tourist park cabins cost $75-$130 a night. Huskisson is about 10 minutes drive from the Golf Club.
See http://www.southcoast.com.au for a listing of the many other accomodation options at Jervis Bay.

If you wish to attend and/or give a seminar please email us and book your accomodation asap. Send your seminar title and abstract to r.weber@adfa.edu.au.
Further details of the meeting will follow as arrangements are made.

A/Prof. Tim Marchant, tim_marchant@uow.edu.au
A/Prof. Rod Weber, r.weber@adfa.edu.au.


Yours,
Tim and Rod




---
Ross Moore 2004-12-08